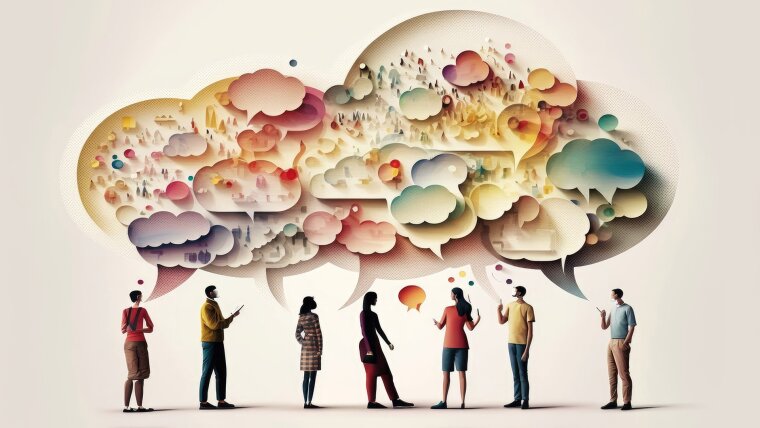 Gute Gesprächsführung als Berufseinsteiger:in
Kommunikationstraining, um mit wenig Berufserfahrung kompetent aufzutreten.
Many smaller speech bubbles surrounded by a huge one above a group of people.
This event is in the past.
Past event
This workshop will be held in German. Proficient language skills recommended.
Trotz Studium und viel Wissen fühlen sich Berufseinsteiger:innen meist nicht erfahren genug. Deshalb halten sie sich in Meetings und Gesprächen oft zurück. Doch auch ohne jahrelange fachliche Expertise kannst du einen wichtigen Beitrag leisten - nämlich hilfreiche Fragen stellen, die selbst die Expert:innen zum Nach- und Weiterdenken bringen.
In diesem interaktiven Training lernst du, wie du trotz geringer Berufserfahrung durch gute Fragen, kompetenter auftrittst und gleichzeitig einen Mehrwert schaffst. Du lernst, welchen Unterschied es macht, ob du in der Rolle einer Expertin/ eines Experten oder in fragender Haltung in ein Gespräch gehst und erlebst welchen Vorteil lösungsorientierte Fragen gegenüber alltäglichen Fragen haben.
Referentin: Monique Hernández Vera | systemische Beraterin | system worx
Monique Hernández, arbeitet nach ihrem Studium an der Universität Jena als systemische Beraterin bei system worx und unterstützt Menschen und Organisationen bei ihrer Weiterentwicklung.Dabei ist ihr wichtigstes Werkzeug die Kommunikation - insbesondere das Stellen hilfreicher Fragen.
Veranstalter: Friedrich-Schiller-Universität Jena | Career Point
The number of participants is limited to 12 people. Please remain fair and professional and check your registration for the workshop.