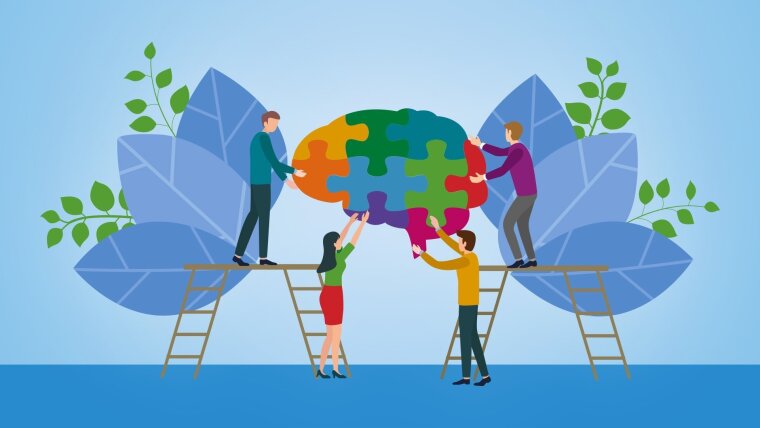 Work-Life-Balance
Interaktives Seminar für den ausbalancierten Berufseinsteig
Four people are doing a brain-puzzle together.
This event is in the past.
Past event
The workshop will be held in German. Language level B1 is recommended.


In Zeiten des rasanten digitalen Wandels und globaler Veränderungsprozesse ist eine ausgewogene Work-Life-Balance ein wichtiges Kriterium, um auch und gerade beim beruflichen (Neu-)Start nicht das eigene Wohlbefinden aus dem Blick zu verlieren.
Inhalt:
Gesundheit als biopsychosozialer Prozess (Salutogenese)
Definition der Begrifflichkeit (Work-Life-Balance vs. Life-Balance)
Ansätze und Ebenen der WLB
Modell zur Optimierung der WLB
Persönliche Gesundheitsfaktoren (Bewusstwerden und konsequente Förderung)
Soziales Netzwerk (Energiespender vs. Energiefresser)
Exkurs – mentales Stressmanagement (Denkmuster & Stressreaktion)
Persönliche Stressverstärker entlarven
Praxisübungen zur Förderung der geistigen Frische
Lecturer: Dirk Hübel | Gründer und Geschäftsführer | Health & Fitness Academy
Dirk Hübel ist Diplomsportwissenschaftler, Vorstandsmitglied des Bundesverband betriebliches Gesundheitsmanagement e. V. und Inhaber der Health & Fitness Academy. Vor über achtJahren legte er seinen Tätigkeitsfokus auf Führungspersonen und der Frage nach dem gesunden Führen
We would like to remind you to remain fair and professional: The number of participants is limited to 9 people. Please check your binding registration for the workshop.
Organiser: Career Point